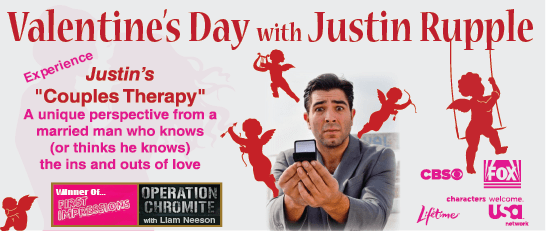 This morning's winner of the MoreFM Morning Mindbender won a pair of tickets to see a Valentines Day performance with Justin Rupple, Wednesday, February 14th.    Tired of the pressure of trying to find the perfect event for Valentine's Day? Leave it to the professionals. This year, one of Hollywood's most in demand comedians, Justin Rupple (CBS, Fox, Lifetime) will do all the heavy lifting for the most romantic night of the year. 
Take your loved one, or one you'd like to love, to Reno Tahoe Comedy for "Couples Therapy". A unique perspective from a married man who knows (or thinks he knows) the ins and outs of love.  Purchase tickets at RenoTahoeComedy.com.
Tune in tomorrow morning at 7:10am for your chance to win.  Here's today's question and answer,
Question:   28% of people do this at home, while 70% do it somewhere else. What is it?
Answer:  Wash their car.
Winner:  Lorie Mullins of Reno.