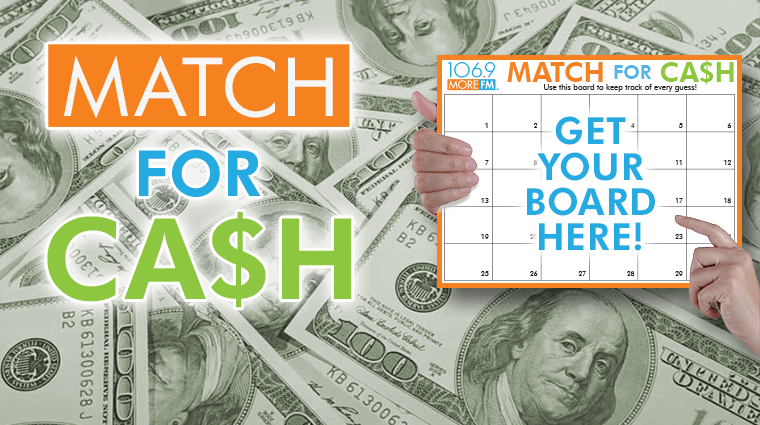 More FM gives you MORE of what you want:   More Music, More Cash, and now More chances to WIN with FIVE chances every weekday to score $1000…along with great PRIZES…with Match For Cash!
There's 30 squares on each Match For Cash Board; when we ask you to call, give us 2 numbers between 1 and 30, if the prize behind those two match, you WIN!  EVERY Match For Cash Board has a $1000 prize somewhere behind the squares.  When someone wins it, we start a brand-new board. And every board has great prizes in addition to cash!  Prizes to keep you feeling good with merchandise and services you want and need.  Listen for your chance to play:  Just before 8am, at about 10:15, just after NOON, and again at about 2:30 and 4:15!  FIVE chances every weekday to win.
Best of all,  MoreFM listeners are playing Match For Cash with fellow Northern Nevadans…not like some "National" contests sometimes featured on other radio stations.
Download and print the MoreFM Match For Cash Board and keep track of every guess!  And remember, as soon the $1000 prize is revealed and won, we start a brand new board with MORE cash and MORE prizes!
.
Listen to win great PRIZES, too, from:

Kristin in Carson City wins $1000 on the first Match For Cash board!
Heather E. in Sparks picks up $1000 on the second Match For Cash board!
For Official Rules, click here.