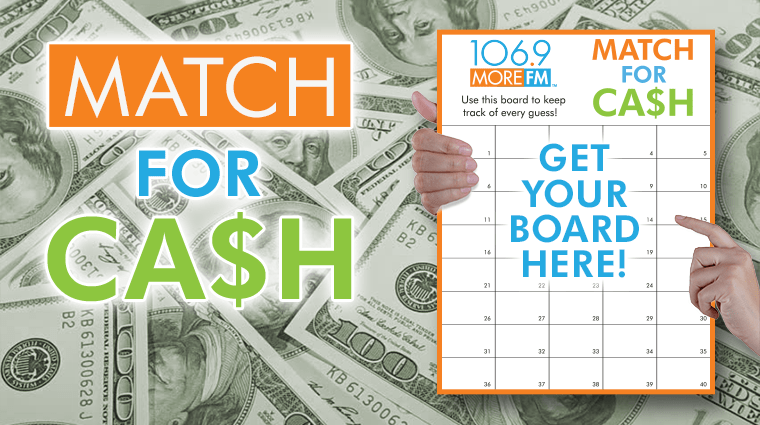 5 chances every weekday to win $1000 with
More FM MATCH FOR CASH!
More FM "Match For Cash" is back, and it's even bigger, with more CASH and more PRIZES!  There's 40 squares on each Match For Cash Board; when we ask you to call, give us 2 numbers between 1 and 40, if the prize behind those two match, you WIN!  EVERY Match For Cash Board has a $1000 prize somewhere behind the squares.  When someone wins it, we start a brand-new board.  And every board has great prizes in addition to cash!  Prizes to keep you feeling good with merchandise and services you want and need;  from A Master Mechanic, Chihuahua's Cantina & Grill, Beach Retreat & Lodge Tahoe, Farm Fresh Catering, Waxing the City, Qdoba Mexican Eats, the Beauty Parlor, and MORE!
Listen for your chance to play:  Just before 8am, at about 10:15, just after NOON, and again at about 2:30 and 4:15!  FIVE chances every weekday to win.
Best of all,  MoreFM listeners are playing Match For Cash with fellow Northern Nevadans, not like some "National" contests sometimes featured on other radio stations.  So you've got a REAL chance to win!
Download the MoreFM Match For Cash board and keep track of every guess!  And remember, as soon the $1000 prize is revealed and won, we start a brand new board with MORE cash and MORE prizes!
More MUSIC, More CASH and More FUN while you work! 
Check out some of the prizes available throughout this Fall's Match For Cash contest*:

A Master Mechanic
95 E Glendale Ave, Sparks, NV 89431
"Making it good under the hood"
Win a $70 Lube, Oil and Filter Change
This service is your usual periodic maintenance, and includes a comprehensive vehicle inspection of various items including air filter, belts, hoses, coolant systems, brake systems, suspension, exterior lighting, tire wear & condition, all under hood fluid levels and condition, etc.
Do you want to know one of the most important things when it comes to the proper maintenance of your vehicle? Without a doubt, it would have to be an oil change. An oil change is not expensive and it's not going to take a whole lot of time. Typically, the ASE certified technicians  will be able to change the oil in your vehicle and have it out of the service center within 30 minutes.
7111 S Virginia St, Reno, NV 89511
Win Lunch or Dinner for 2…and Lunch or Dinner for 4
Chihuahua's features recipes that include a blend of secret ingredients and have strict attention to freshness and quality. These details have been the foundation of the wholesome, authentic Mexican cooking loved at Chihuahua's Grill. They wanted to create a truly special Mexican restaurant – one based in family and genuine Mexican recipes. The entire Rivera family pitched in to open the first Chihuahua's Grill Restaurant in July of 2005 and recently opened their 2nd location here in Reno!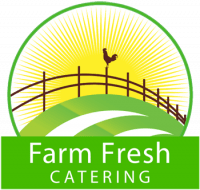 Farm Fresh Catering 
Win a $100 Catered Lunch
Farm Fresh Catering offers delicious meals that are made from only fresh and organic ingredients with vegan and paleo options available.
 3411 Lake Tahoe Blvd South Lake Tahoe, CA 96150
Win a  Two-Night Stay in a Beach Front Room and $50 at Boathouse on the Pier or Sidelines. – ($550 Value)
At the water's edge in South Lake Tahoe, surrounded by breathtaking views of Heavenly Mountain ski resort, you'll find the Beach Retreat & Lodge at Tahoe. It's cozy, with a comfortable, laid-back feel, beachy accommodations steps from the lake, glowing firepits, a heated outdoor pool and hot tub, and marina. Any time of year, the Lake Tahoe you've come to discover is here: A brilliant sand beach and sparkling waters in the summer.

Waxing The City –
465 S Meadows Pkwy #3, Reno, NV 89
Win a $50 Certificate
Waxing The City is a full body and facial waxing studio located in the heart of the fastest growing area in South Reno.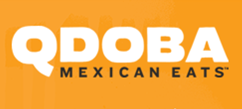 Qdoba 
Win Lunch or Dinner for two…and Catering!
QDOBA Catering offers a customizable spread ideal for any event or appetite. Order QDOBA Catering for your next event at any of their 6 QDOBA locations!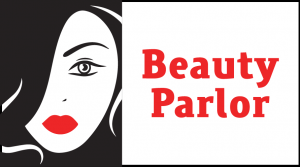 Beauty Parlor – 2888 Vista Blvd Ste #104 Sparks NV 89434
Win a $50 Certificate
Beauty Parlor is a full-service family oriented salon located in the D'Andrea Shopping center on Vista Blvd in Sparks. In business for over 6 years and now under new ownership with a fresh look. All stylist have over 10 years of experience and offer services such as hair color, color corrections, highlights, hair relaxer, Karatin treatments, haircuts and styles, wax, makeup and Nails. They strive to enhance their clients' inner and outer beauty with also offering gift certificates for that special someone or special event.

5150 Mae Anne Ave. Ste. 204
4978 S. Virginia Street, Reno
1495 E. Prater Way Suite 125, Sparks
Win Lunch for 2
At L&L Hawaiian Barbecue, you'll experience the warmth and welcome of the islands through our food and atmosphere.  The spirit of aloha is also about people.  Once you set foot in our restaurant, our friendly and helpful staff will make you feel right at home.  As you look over our menu, you're sure to see something that excites your tasted buds.  With a menu full of favorites, our waiters can help you choose something that will delight even the pickiest palate.  Our portions are plentiful and flavors always on-point.  Walk in, take-out and catering for lunch or dinner.  Great for groups and kids!
* (not all prizes are on every board)
Playing Match For Cash, we get to connect with fellow Northern Nevadans, not like some "National" contests sometimes featured on other radio stations.  Here are some of the winners so far:
Rainette in Reno wins $1000 on the first Match For Cash board!
Betty Ann in Sparks picks up $1000 on the second Match For Cash board!
For Official Rules, click here.