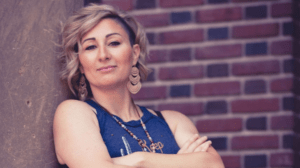 Jen Grant
Jen was born in Lajolla, CA and raised in the small town of Sonora, CA. She moved to Reno in 2011- where she worked in radio before moving into the medical field. She has had her EMT for 11 years and worked at a local Emergency Room before moving back to Radio.
Jen loves to sing! She has had the honor to sing at NBA games, NHRA Races, and perform for Governors and Presidents in the past.
She is the daughter of a fallen officer and holds the position of President for the Northern Nevada Chapter of Concerns Of Police Survivors, a non profit organization that raises funds for police survivors.
Her favorite baseball team is the San Francisco Giants. She LOVES fast cars, motorcycles, animals, dancing, laughing and having a good time with friends and family. She is deathly afraid of heights, snakes and spiders. Jen is married to her husband, Adam, and has two children, Cruz and Isabel.